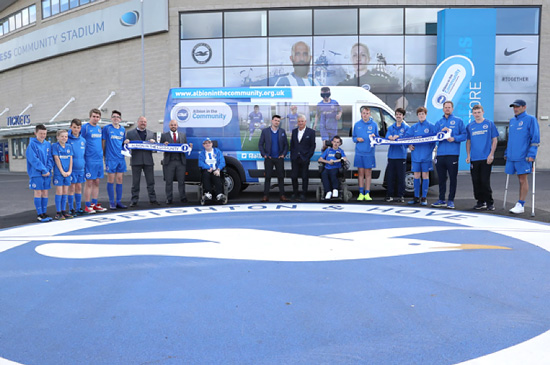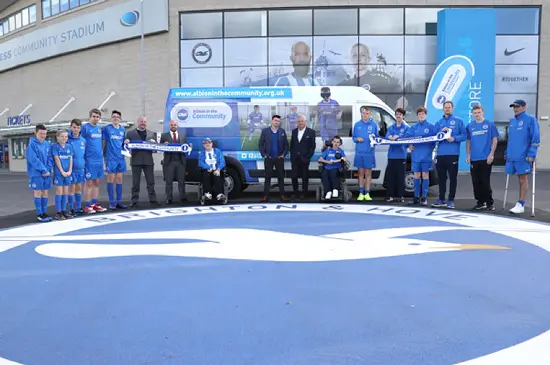 Albion in the Community
Albion in the Community (AITC) is the official charity of Brighton & Hove Albion Football Club. They combine the popularity of football and the reach of the football club to engage and inspire local people of all ages, abilities and backgrounds – giving them opportunities they may never have had. Albion in the Community deliver a wide range of programs from football to health and wellbeing, from education and qualifications, to disability and social inclusion – helping people raise their aspirations and reach their full potential.
During the 2015/16 Season, Albion in the Community launched an exciting fund raising initiative to pay for a new Wheelchair Accessible Vehicle (WAV) for use within the community. This would enable supporters with various levels of disability – transport to home and away games as well as enforcing the club's policy of social inclusion. The new vehicle would also be used by the Brighton & Hove Albion Power Chair Football Team as transport to their National League games played in Nottingham.
After considering various funding methods, AITC decided that Contract Leasing would offer the most support and cost effective way to attain a reliable and robust WAV. As well as ensuring the funds raised were used to the maximum potential. With the generous support of the Brighton & Hove Albion fans and some amazing donors AITC raised more than £40,000. AITC spoke to various suppliers but decided that Toomey Leasing Group working with GM Coachworks, the Devon based specialist WAV builders, offered the best all round package at the right cost.
AITC Head of Finance and Operations – Phil Baldwin said: "Toomey Leasing Group's professionalism, sector knowledge and personalised support, has been invaluable in providing Albion in the Community with our new disability enabled minibus. It has been invaluable having dedicated support from Mike George(TLG Area Manager – South), ensuring that the charity and our beneficiaries got the best possible product at the best possible price."
If you would like a bespoke package tailored to your fleet, please contact us on 01332 205828.