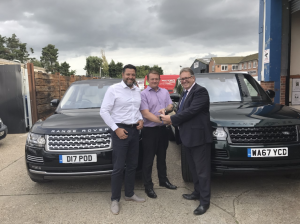 eBrit Service
Since 2015, Toomey Leasing Group has been supplying vehicles to eBrit Services, one of the country's leading contractors for the identification, removal and disposal of all hazardous materials. The experts at eBrit work closely with the general public, sub-contractors and main contractors providing specialist services, such as labour supply, asbestos training, fire protection, mechanical and electrical, land remediation and asbestos surveys.
As you can imagine, the vehicles used by all eBrit employees play a crucial role in ensuring total quality and compliance when working in challenging and high-risk environments. eBrit now has a fleet of 35 vehicles including around 30 vans, all of which have been supplied by Toomey Leasing.
Recently, Toomey Leasing provided eBrit's Directors with 2 sophisticated Range Rovers. Both company Directors requested high-performance vehicles that are not only comfortable and spacious but also offer uncompromised style inside and out.
If you would like a bespoke package tailored to your fleet, please contact us on 01332 205828.